Synology DiskStation DS1621xs+
฿55,000.00
Synology DiskStation DS1621xs+ is a highend, high-performance NAS solution that
supports every aspect of your business with
powerful data management, collaboration,
and networking tools topped off with wellrounded data protection mechanisms in a
6-bay desktop chassis. Built-in M.2 SSD cache
slots, 10GbE connectivity, scalable storage,
and Synology 5-year limited warranty make
DS1621xs+ a future-proof choice to build onpremises cloud infrastructure.
รับประกัน 5 ปี

ราคารวมภาษีมูลค่าเพิ่ม (VAT) แล้ว
Description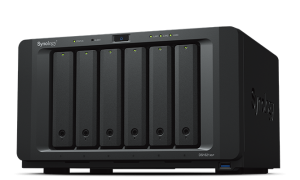 DS1621xs+ เป็น NAS ระดับไฮเอนด์ที่มาพร้อมประสิทธิภาพระดับเซิร์ฟเวอร์ในฟอร์มแฟกเตอร์แบบเดสก์ทอป 6 Bay สล็อตแคช SSD แบบ M.2 ในตัว พอร์ต 10GbE หน่วยความจำที่ขยายได้ และการออกแบบพื้นที่จัดเก็บข้อมูลที่ปรับขยายได้ช่วยให้คุณสามารถเพิ่มประสิทธิภาพของ NAS ของคุณได้ ทำให้เหมาะอย่างยิ่งสำหรับธุรกิจขนาดเล็กและขนาดกลางที่ต้องการโซลูชันพื้นที่จัดเก็บข้อมูลที่มีประสิทธิภาพและประหยัดเนื้อที่
Only logged in customers who have purchased this product may leave a review.