Synology DiskStation DS1621+ (6-bay)
฿32,500.00
Synology DiskStation DS1621+ is a powerful
6-bay network-attached storage solution
designed to store and protect critical data
assets. The growing amount of unstructured
data requires smarter and increasingly
higher performance methods of storing,
accessing, and sharing. DS1621+ is a compact
desktop form-factor NAS that is beyond
evolutionary, featuring over 110K, or 174%
higher 4K random read IOPS1, compared to
its predecessor. Designed for scalability, the
DS1621+ enables you to start small, then
expand as your data grows.
รับประกัน 3 ปี

ราคารวมภาษีมูลค่าเพิ่ม (VAT) แล้ว
Description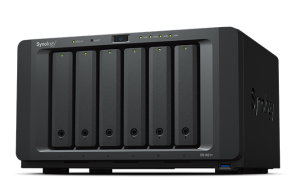 Synology DiskStation DS1621+ คือโซลูชันที่มีประสิทธิภาพในการจัดเก็บข้อมูลที่เชื่อมต่อกับเครือข่าย 6 Bay แบบกะทัดรัดที่ได้รับการออกแบบมาเพื่อจัดเก็บและปกป้องทรัพยากรข้อมูลสำคัญ ในปัจจุบันนี้ ข้อมูลที่ไม่มีการจัดโครงสร้างเป็นจำนวนมากขึ้นเรื่อยๆ ที่ต้องการวิธีการจัดเก็บ เข้าถึง และทำงานร่วมกันที่มีประสิทธิภาพสูงขึ้นและชาญฉลาดมากขึ้น DS1621+ ที่ออกแบบมาเพื่อการปรับขยายจะช่วยให้คุณเริ่มต้นจากขนาดเล็กแล้วขยายออกได้เมื่อข้อมูลของคุณเพิ่มมากขึ้น
Only logged in customers who have purchased this product may leave a review.