Synology DiskStation DS220+
฿12,000.00
Synology DS220+ is a compact network-attached storage solution designed to streamline your data and multimedia management. It features smooth data sharing, video streaming, and photo indexing, as well as well-rounded data protection and recovery options.
รับประกัน 2 ปี

ราคารวมภาษีมูลค่าเพิ่ม (VAT) แล้ว
Description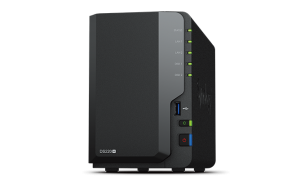 Synology DS220+ เป็นโซลูชันที่เก็บข้อมูลที่เชื่อมต่อกับเครือข่ายขนาดกะทัดรัดที่ออกแบบมาเพื่อเพิ่มประสิทธิภาพการจัดการข้อมูลและมัลติมีเดียของคุณ โดยมีคุณสมบัติการแชร์ข้อมูล การสตรีมวิดีโอ และการทำดัชนีภาพถ่าย รวมถึงการปกป้องข้อมูลอย่างรอบด้านและตัวเลือกการกู้คืน
Only logged in customers who have purchased this product may leave a review.