Synology DiskStation DS220j
฿6,900.00
DS220j is an entry-level 2-bay NAS designed for home and personal users to store and share photos, videos, and documents. The private cloud solution is powered by the award-winning DiskStation Manager (DSM) OS, providing an intuitive user interface and safe data protection approaches for easy digital asset backups from computers and mobile devices at no additional cost.
รับประกัน 2 ปี

ราคารวมภาษีมูลค่าเพิ่ม (VAT) แล้ว
Description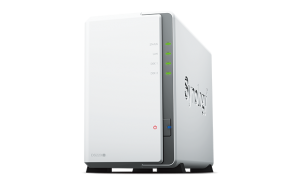 DS220j เป็น NAS ระดับเริ่มต้นขนาด 2 Bay ที่ออกแบบมาให้ผู้ใช้ตามบ้านและผู้ใช้ส่วนบุคคลจัดเก็บและแชร์ภาพถ่าย วิดีโอ และเอกสารต่างๆ โซลูชันคลาวด์ส่วนตัวได้รับการขับเคลื่อนจาก DiskStation Manager (DSM) ซึ่งเป็น OS ที่ได้รับรางวัล โดยมีอินเตอร์เฟซผู้ใช้ที่ใช้งานง่ายและให้การปกป้องข้อมูลที่ปลอดภัยสำหรับการสำรองข้อมูลสินทรัพย์ดิจิตอลจากคอมพิวเตอร์และอุปกรณ์มือถือได้อย่างง่ายดายโดยไม่มีค่าใช้จ่ายเพิ่มเติม
Only logged in customers who have purchased this product may leave a review.