Synology DiskStation DS720+
฿17,900.00
Synology DS720+ is a compact network-attached storage solution to streamline data and multimedia management. Two built-in M.2 SSD slots and Synology SSD Cache technology allow you to boost system I/O and application performance. Scalable storage design lets you start small and expand storage capacity with Synology DX517 as your data grows.
รับประกัน 3 ปี

ราคารวมภาษีมูลค่าเพิ่ม (VAT) แล้ว
Description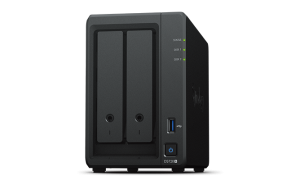 Synology DS720+ เป็นโซลูชันที่เก็บข้อมูลที่เชื่อมต่อกับเครือข่ายขนาดกะทัดรัดที่เพิ่มประสิทธิภาพการจัดการข้อมูลและมัลติมีเดีย สล็อต M.2 SSD ในตัวสองสล็อตและเทคโนโลยีแคช SSD ของ Synology จะช่วยให้คุณเพิ่มประสิทธิภาพของ I/O ระบบและแอปพลิเคชันได้ การออกแบบพื้นที่จัดเก็บข้อมูลที่ปรับขยายได้ช่วยให้คุณเริ่มต้นใช้งานจากขนาดเล็กและขยายความจุในการจัดเก็บข้อมูลด้วย Synology DX517 ตามการเพิ่มขึ้นของข้อมูลของคุณ
Only logged in customers who have purchased this product may leave a review.